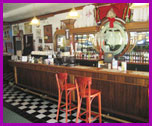 Proudly Serving Fine Wines

SALMON CREEK CHARDONNAY
Full of lively fruit and refreshing balance, expect appe, fig and melon nuances with a soft, yet crisp finish.

SALMON CREEK MERLOT
Strawberry and blackberry aromas give you a preview of what to expect. Vanilla and cranberry flavors are present as well. Velvety tannins povide a long and gratifying finish.

SALMON CREEK CABERNET SAUVIGNON
Full of sumptuous fruit character and herbal complexity. This one's for someone looking for something just a little bit bigger, yet it has a silky finish.